Who would have thought just a few months ago that I would, quite unexpectedly, pretty much walk away from what was shaping up to be a successful original music label with albums and the possibility of massaging my ego with numerous 'live shows'...
Well, that's what I have done, largely due to the pressure 'live streaming' has put on many artists like myself, through too many 'cheap' streaming deals that are clearly ripping off recording artists with their very minimal payments; using the term 'payments' is far more generous than what actually filters through to the artists affected, many can't even pay the studio and promotion bills from the historically low royalties...
In 2011 I published my first e-book 'Faulty Caskets (An Undertakers Story)' in of all formats a humble PDF and thought nothing more about it...
Now as we approach the end on 2019 'Faulty Caskets' is back in a new E-Pub format, new artwork and soon to be released as a paperback... Ironically much as I was hugely influenced by The Beatles and there may be just one more album in me yet, I am now officially a 'Paperback Writer'...
I already have enough material for the next book, the title shall remain elusive at this point, lets just say it will be an excellent follow up to 'Faulty Caskets' which as you may have figured out is a book about the funeral business written in a biographical style and covering all the bits you always wanted to know and that no one would tell you until it was unleashed by me now reworked, edited and sporting a cool new cover with me and my favourite selection of coffins AKA caskets...
It is quite funny that a book on funerals is my lead into another creative journey following the death of the music business as it was and is now slowly churning in its own grave; its bones being slowly stripped of any meat by the preadator we have come to know as 'Streaming'...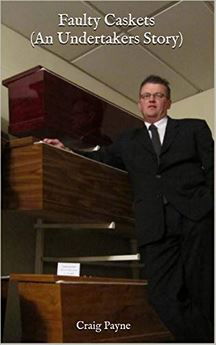 For your copy of 'Faulty Caskets (An Undertakers Story)' simply click on the cover
Article by Craig Payne 2019 ©